CROSSFIT TESTIMONIALS
Aliza
For the past few years I found myself mulling over the fact that I could run one hundred miles averaging just over ten minute miles, but could not do a pull up. How could this be? What did this mean about me as an "athlete"? I tried running more, it seemed logical at the time; more miles would equate to me being faster, stronger and overall a higher caliber athlete. Reality was that more miles meant more injuries, more imbalances and more mental and physical fatigue.
Everyday on my way to work I drove past a new training facility called Champlain Valley Community Fitness. I finally went online, perused the website and then contacted the owner Jade Jenny. Within a few email exchanges, I was convinced and enrolled in "on-ramp". As I entered the gym for the first few sessions, I was terrified that my weaknesses would be exposed. I feared that I would flounder as my body only seemed to be comfortable with one motion, running. Despite my worry and within no time, the gym became a place of excitement and exertion and crossfit became an integral part of my ultrarunning training.
Early April marked my first ultra of the year and a time to see how my new training regime would payoff. I felt faster and stronger both mentally and physically. As I toed the line for the Bull Run Run 50 miler in Virginia, I had no reservations. Throughout the race I felt like I was not forcing my running and was just out for a long run. A noticeable difference the entire run was my posture and ability to keep good form due to increased core strength.
Crossing the finish line in a time of 7:04 meant I had taken over 18 minutes off my old course record despite enduring more difficult conditions. But what was most astonishing was that during the following days I was not sore. My body held up well during the race and recovered faster than previous years. Just three weeks later I was able to compete in another 50 mile race, The North Face Bear Mountain 50 miler, whereas in previous years this would not have been feasible for my body. I finished the technical and mountainous course in a time of 9:19 in first place.
There is no doubt in my mind that Crossfit has truly helped me improve my total body fitness and has shown me that getting stronger and faster can be fun despite the rigorous workouts. To be honest, I get just as nervous lining up for a big race as I do when a crossfit instructor counts down the final seconds to a our daily WOD (workout of the day), 3, 2, 1, GO! Crossfit and more specifically Champlain Valley Crossfit has become a core value and practice in my ultrarunning training regime!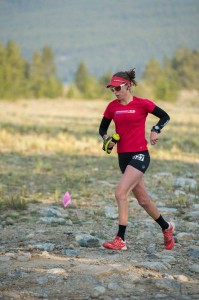 Christian
Now that I have found a spare moment during my transition to Ft Rucker, Alabama, I just wanted to thank you all for the excellent training and camaraderie that I have experienced in the last six months. Coming to CVCF has completely changed not only the way that I train, but the way that I incorporate training into my life. Working out, or PT as the Army calls it, used to be more of a mandatory ordeal for me, something that I had to attend in ROTC and walk through the steps just so I could leave, go home, and start the rest of my day. Not to say that it wasn't difficult at times or worth while, I just didn't see it as a part of my ritual. After about a week at CVCF, I began to feel like my day wasn't complete if I had not mentally and physically pushed myself through a WOD. My time at CVCF pushed me to do complex movements that I was hesitant to try in the past, and having other like-minded individuals around me provided the confidence to go for it. I have only one regret, and that was not joining earlier. I wasn't sure what to make of CVCF before I joined, and my experience far surpassed any expectations I had. I am attending Army Flight School now, and it will be some years before I return. CVCF has prepared me well to succeed mentally and physically in the career I am taking on, and I thank you all for being a part of that. I plan to visit sometime this Spring, hopefully after the next edition of 100 burpee box jumps.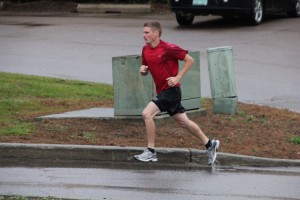 Cindy
For the past 10 years I have suffered from lower back pain. I've tried physical therapy, acupuncture, and facet injections. None of these helped relieve my back pain. With no relief in sight, the Spine Institute recommended that I have Spinal Fusion surgery. Desperate to not undergo this procedure, with only an 80% chance that I might have some improvement, I asked for other options. Core strengthening was recommended. Hearing my story, Vinny Lizotte suggested I join Champlain Valley CrossFit. After 6 months of CrossFit, I no longer have any lower back pain. I've climbed Camels' Hump and Mt. Mansfield and spent a day rock climbing – all pain free. A year ago, I wouldn't have been able to do that. When I first joined CrossFit, anything that involved bending over was a challenge. I wasn't able to do a single Burpee or Box Jump. Last week, I Dead lifted 100 lbs. Today I did 100 Burpees and 100 Box Jumps! Thank you Jade, Betsy, the rest of the CrossFit team, and all of the CrossFit members. You have changed my life and keep me pumped! I look forward to each grueling session and the triumph that follows!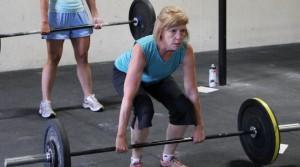 HJ
As I stepped from the boat adorned with my caveman frock, sweaty smelly life-jacket, paddle in slightly trembling hands from the all-out exertion, I knew we had come together through our limited experience (first timers), given it our all, and done so in as unified an effort as we could manage. This had been the final of three heats which had commenced early in the morning, and finished with the finals race at 4:30. Having been nipped at the line twice by Confluence CrossFit from Montpelier in earlier heats, and having the 5th fastest time going into the final, none of us had any idea where we stood since all our intent was focused in the boat as we paddled as hard as we could. When the official ran over and informed us that we had won, my feet left the ground. They never touched down till well after we made our way to the makeshift podium to receive the grand trophy. This was a feeling I shall never forget.
Remarkable in many ways. Our incredible Captain, Kristi Lunny, started making inquiries for participants in the Vermont CrossFit gym many months ago. In the most friendly and supportive way she made it known that any Crossfitter was welcome. She wasn't concerned with getting the fastest, strongest, most experienced CrossFitters….but rather, those that had an interest in participating in the Dragon Boat event and being part of a CrossFit boat. As it turned out the team ended up being comprised of 13 women and 8 men. What stands out about this is that the other teams in the final heat were almost unanimously comprised of the minimum 8 women and 12 men. Remarkable also is that the second place boat was Confluence CrossFit from Montpelier.
CrossFit works, make no mistake about it. Throughout the day, members of past winning and championship teams approached me (various friends and acquaintances) and wished me luck but made it clear that they had the experience and there was no question that we would be bested. I said good luck back and went about my business. We flushed out the mistakes we made as a team, did some paddling practices, discussed technique endlessly, and quietly made it happen. We pay our dues in the gym. We work hard and it pays off. For any of you new Crossfitters who have any doubts about the benefits versus the effort….it's not even close.
A couple years ago as I began to get dangerously close to a 60th birthday, I was seriously feeling my age for the first time in my life. My back hurt most of the time, my waistline was expanding, and I no longer felt the impetus to go and do like I once had. Fortunately, Jade is my son, and he opened the door to CrossFit and the Paleo diet. I just passed my 60th birthday, and am just coming up on a year of being a consistent CrossFitter (average 3.5 times per week). My back no longer hurts, it feels strong, and getting steadily stronger. My knee maladies are being addressed, and I am able to complete workouts that once appeared humanly impossible. More importantly is the eagerness for a life with vigor that has been restored and amplified. I raced my mountain bike a couple weeks ago (on a Crossfit 6 hour race team), became part of a championship Dragon Boat team, and look forward to each day with expectation and joy (and of course a certain nervousness before super-tough WODS!). Granted, I am blessed with an incredible wife, three supernaturally wonderful sons, (all of whom will be CrossFitters as soon as the Crossfit Kids program wraps it's arms around little Cedric…and damn, is he ready!), but CrossFit has even inspired a deeper appreciation of my family, friends, and life outside the gym.
Thanks for making me part of the boat, part of the gym, and our amazing CrossFit community that has developed. I admire each and every one of you that stands next to me, cheers me on, and inspires me to work harder, become stronger, and experience that which might be possible. Hopefully I can do the same for you sometime. With humble appreciation and affection for all my fellow CrossFitters and coaches.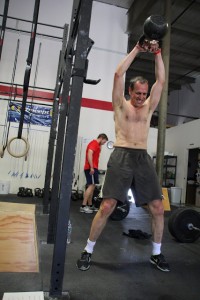 Ken
Jade, I wanted to tell you that I went to my Endocrinologist (Diabetes doctor) on Tuesday and he stated that I am by far his best patient and he can't believe how tight my control is. Control is measured by a test called a glucose Hemoglobin A1C test, which essentially provides an average blood glucose level for the past three months. Historically, I've been at or around 7.0, which is good for a diabetic. Since I've been doing CrossFit and eating like a caveman, my A1C fell to 6.2, which is awesome for a Type 1 Diabetic. A healthy person without diabetes averages around 5.0 to 6.0, so I am almost controlling my glucose levels as well as someone with an Endocrine system that works! He was also amazed that I am using as much insulin on a daily basis as a person that weights 130lbs (I weigh 200lbs), which reflects my good diet and high insulin sensitivity (limiting the potential for future problems). It is awesome, CrossFit/Paleo is almost reversing my diabetes. I've had diabetes for 22 years and am in the best control of my life (where many diabetics start to see problems after 20 years). He also asked me to be a mentor for a recently diagnosed Type 1 youth, which I think is pretty cool and am honored.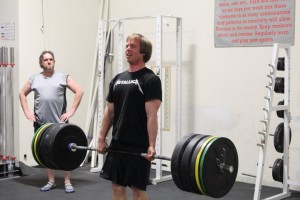 Mike
First off, I want to thank everyone at CVCF for making that place what it is. I have been to several CF boxes and CVCF is definitely the greatest community I have experienced. I dropped in the first couple times while my life was in crazy transition after hurricane Irene. I remember how welcoming everyone was and how much my stress level dropped when I was there. A short while later I was fortunate enough to move to Williston and enjoy becoming a full time member of the community. I instantly felt at home and realized a level of camaraderie I haven't seen since my military days.
My departure from VT is bittersweet. Mainly because I thoroughly enjoy the community you all have developed here at Champlain Valley and I'd love to remain a part of it. On top of that, I think I have hit a PR on almost every lift since being here. And besides Jade's strange obsession with those f***n evil double unders, the coaches, athletes and programming have brought me to a new level in CrossFit. If I went to my death bed tomorrow my only regret would be that I could not do just one more killer WOD with people cheering me on!
I wish everyone the very best and DEFINITELY plan on coming back for some visits. Keep moving forward… You all will be sorely missed.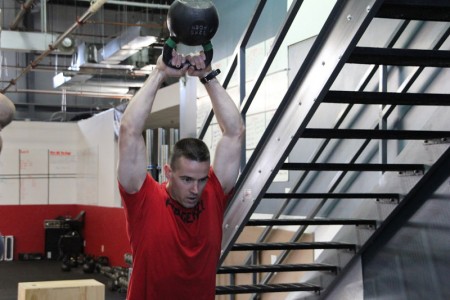 Sarah
I'm a 34 year old medical student- aka. a nerd. I never used to think of myself as an athlete. In fact, I hated exercise until I came to CVCF. I used to force myself to work out either because someone else forced me to do it, or to look better, and it didn't work very well as my heart wasn't in it. When I started medical school I found that I was so focused on school, I started to gain weight and stopped taking care of myself because it was so hard to keep up. Then I had to start buying bigger clothes and became so tired I started to struggle in school and couldn't keep up with the 22 year olds. Finally I decided it was time to do something, not because I wanted to change how I looked, but because I knew I needed to be healthier..
My first week doing On-Ramp with Dani, I could barely run across the parking lot and all I could pick up was the PVC pipe. It was embarrassing, but I kept going because, somehow, they made it fun and they were so supportive of me and never made me feel like I was less than anyone else. Then my test scores started to get better. I wasn't tired anymore and didn't need coffee to get through the day. I could run without wanting to puke, and my test scores kept going up. I started coming as much as I possibly could, and now, 2 years later, I am 6 dress sizes smaller, I move faster, I am more confident, and I think faster! My grades have never suffered, they've only continued to get better. I have not sacrificed any of my education to be a healthier, happier person. I was the girl in gym class that the other kids picked last and now I can climb a rope and do "boy" push ups. Instead of barely keeping up, I am now the person at school that other people compete with. I am an athlete.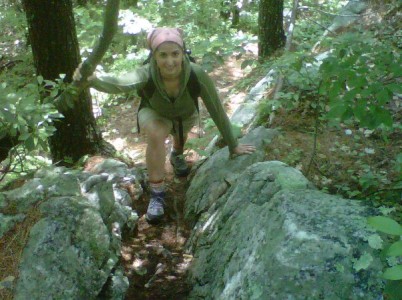 Tanya
I had an hour for lunch today, and decided I'd shop around a little. And…today I purchased the smallest pair of jeans I've owned since HIGH SCHOOL! I almost flipping cried, Jade! I can't thank you or Betsy enough (or Dani, or Scott, or Erik, or Bryant, etc). I feel like there's so much more I can do now. I want to be fitter and stronger and I KNOW I can do it! Last night was so inspiring, with everyone pushing and supporting me (and everyone!) to do my very best and believing in me so much. You have built the most amazing, positive, friendly and supportive little community Jade, and I'm so goddamn psyched I get to be a part of it. For the one MILLIONTH time…but certainly not the last…thanks.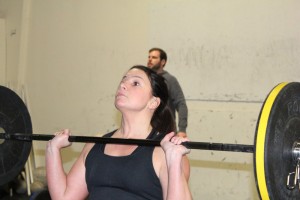 Ali
A little over a year ago I started looking for a gym.
Work hours were grueling, shifts had been taxing,Ali and I felt like I was in a rut–work, eat, sleep, repeat. The nature of my training program at the hospital is that there is a perpetual focus on what is left to learn, how much there still is that you don't know, and constantly finding yourself in critical situations that you may not have been prepared for. It's exciting, stressful, exhilarating, rewarding, overwhelming and challenging. It's easy to get lost in the details of the day to day, and sometimes it's really hard to see how far you've come, because there always seems to be more to do. I needed something different, something new. I love my job, but sometimes our best efforts in medicine fall short, and we can't accomplish what we'd hoped, and that loss can feel profound. I needed an area of my life where I could measure progress being made, where I could tackle something tangible and know that it was a victory…or at the very least, know what to work on. I needed it to be different than anything I'd done in the past, and that's how I found myself on CVCF's website.
I loved what I read, and I thought there would be little to lose. Each on-ramp class I would walk past the gym full of athletes working through some wicked WOD, never really believing I could stand somewhere amongst them…but wanting to. I showed up for 5:45am class the morning after I completed on-ramp, and I have been hooked ever since. Every single class was something new, something else I didn't know how to do, or wasn't yet able to do–but at least I knew what to work towards. Coaches and the community were incredibly supportive, cheering me on from the very beginning, and I felt like I was a part of something. People were pulling for me who barely knew me, and I somehow didn't want to let them down.
It has been just over a year since I walked into the box for the first time, and a lot has happened in that year. I got engaged a few months after starting, and have spent the last year juggling work, wedding planning and the gym. The first year has been a steep learning curve, with some progress, and PRs and a long, long, (growing) list of things to work on. But, there is no question that I have moved forward from where I started. And most importantly, Champlain Valley Crossfit has been a constant. For as much variation that makes its way into the programming, it has simultaneously been consistent as the very best part of my day each day. I love the high expectations, inspirational athletes and sense of community. It is an unparalleled experience.
A week ago I completed my last WOD before leaving for my wedding, and it was painful. As I was laying flat on floor at the end, staring up at the ceiling, I couldn't help thinking about what a year this has been. There I was, in the same spot I was in at the end of my very first WOD, but so much has changed in the past year. There are subtle things, changes in my body that I have noticed, in the way I feel, how I sleep, in how my clothes fit. And there are big things, like satisfaction in working towards a goal, pride in belonging to such a meaningful community, and confidence in achieving what initially seemed unattainable. None of those things could exist without you, and what you have brought to VT with CVCF. There have been days at the gym where I'm tired, or feeling worn out from work, and I find myself trying to calculate how many hours you must work in a day. How infrequently you take a break. How dedica
ted you are to building so much more than a gym. I just wanted you to know that the impact of what you do must be so much greater than you realize, and I wanted to say thank you. Not because I have fun at CVCF and I have made new friends. Not because I have gotten stronger and feel more confident. Not because the wedding dress fits better or I am eating healthier than I ever did before. All of those are true, but pale in comparison to my thanks for pushing me, pushing all of us, to be the best version of ourselves–every. single. day.